Hi there!
Things have been a little quiet from us so far this year, but we've been working on a bunch of projects and will be releasing four records over the next few weeks. Apart from having the occasional sleepless night wondering how I'm going to pay for all of these I'm really excited about every one of them and I hope you will be too.
The first two are now available to order!
SSR025: ULTRA VIOLENT - Crime For Revenge 7" Reissue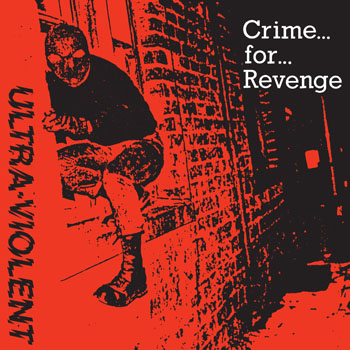 Originally released on Riot City Records in 1983 and quickly becoming one of the label's most highly sought after releases, Ultra-Violent recorded just one single before breaking up when vocalist Adie went on to front the Metal incarnation of the English Dogs. Three songs of blistering UK82, and quite possibly the best record in the genre. Finally reissued 32 years later, with original copies regularly selling for £70+ online. An excruciating amount of thought and love has been poured into this release to make it the best reissue it could be. The record also features a four page insert featuring reprints of original fanzine coverage, several previously unpublished photographs and also for the first time, a lyric sheet. Red vinyl available for mailorder only.
Americans: This has been released in the US by Video Disease Records, so please order from them and save time and postage.
Adie from Ultra Violent has also given us the thumbs up to make official Ultra Violent shirts featuring artwork from the insert, which are also available to order in the webstore. We've only made a small amount of these, so be quick!
SSR027: IMPALERS - Psychedelic Snutskallar 12"EP
In the modern climate of music, nothing sticks. Every week there is a new cool 7" or tape making the rounds on social media, littering your feed with Bandcamp demos and Instragamed cassette j cards. It's hard to keep up, yet an amazing time of stimulation and excitement for punks worldwide. But in the midst of all this madness - it's nice to know you can count on Impalers every year to release the best record of the year.

Unless you live under a rock, you probably already know what to expect from these guys. Their LP last year topped year end charts high and low. And Psychedelic Snutskallar does damage in all the same places. Peerless d-beat, a work of art. Completely unhinged yet tight and in the pocket. This time they have upped the ante with a monstrous opening track that takes up the whole A side at a never boring 11 minute length. Tripped out artwork and packing concept by Sam Ryser (Crazy Spirit, Dawn of Humans, Dripper World) and reworked material from short lived side project Sick Plot make this 12" EP a no brainer.
500 copies pressed, first 100 on Clear vinyl.

Americans: Please pick this up from 540 Records. It'll work out way cheaper for you!
Impalers will be coming to Europe this June for their first European tour, and will be bringing AJAX from New York with them! We've almost finished booking the tour, and will post dates up online once complete.
After these records, we'll have two more out very shortly! Here's the info. Both of these are also available to stream in full on our Bandcamp page right now:
SSR028: PERSPEX FLESH - Ordered Image 12"EP:
Just under a year from the release of their debut LP, PERSPEX FLESH return with a brand new 6 track 12" EP. Undoubtedly their strongest work yet, this takes all of the influences of the previous records, the feeling of claustrophobia, the tasteful nods to bands such as RUDIMENTARY PENI, SPIKE IN VAIN and COLD SWEAT, as well as an occasional post punk feel, and merges it into something ugly and unique. UK Hardcore has been possibly in it's best state for the best part of two decades in recent memory, and this is another record to help enforce that claim. Featuring members of THE FLEX, DiE and BROKEN ARM.
SSR029: SHEER MAG - S/T 7"
The debut 7" from Philadelphia's SHEER MAG finally gets a wider UK and European release! Sheer Mag seemingly came out of nowhere last Autumn with this killer four track EP. It is the only record of recent times that manages to sound like a mix of a classic Seventies rock record, power pop and an obscure English DIY 7" from the late 70's. Everything sounds scrappy, fuzzy and scuzzy and it's all the better for it. The riff packed guitar work and fuzzed female vocals sit perfectly together whilst the crude rhythms just adds bounce and basic beats. Think a mix of the power pop delight of Protex, the lo-fi nature of The Seize, the riffs of Thin Lizzy and the powerful female vocal of Suzi Quatro. It shouldn't work but it does. It really does!
Right, that's all for now, but expect more info in a couple of weeks with ordering info for the above and a few other bits! Thanks a lot for reading as always, and I hope you like the new records.