STATIC SHOCK RECORDS NEWSLETTER - 16TH FEB 2018
So I just typed this out and lost the entire thing when I clicked send, so this version is going to be somewhat more brief. Probably for the best anyhow. I've got another record out today, plus some much needed represses of the URANIUM CLUB and TV CRIME records. Let's go straight into it:
NEW RELEASE:SSR056: BETA BLOCKERS - STIFF PRESCRIPTION MLP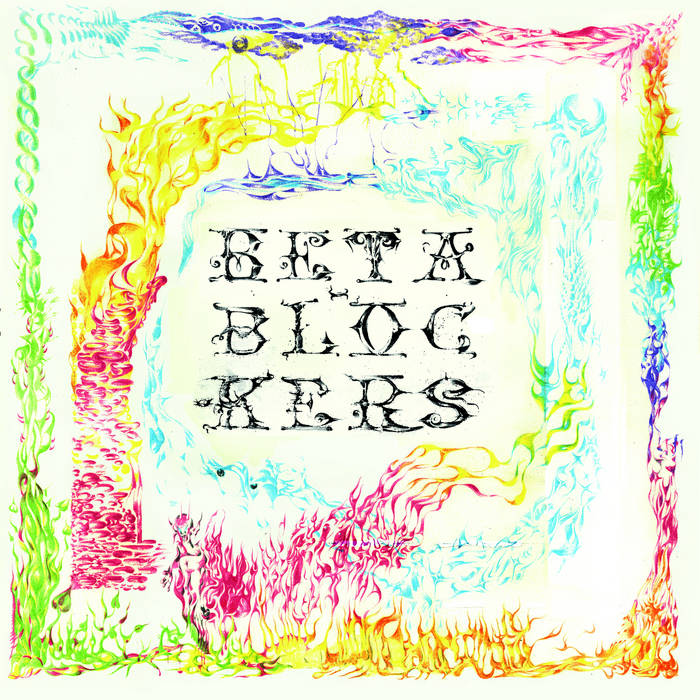 One of the new faces of Sheffield and Leeds punk (though members also keep busy in The Flex, No Form, Whipping Post and Community), Beta Blockers are here with their debut 12". What do they sound like? They sound like Die Kreuzen fucking about with the Screamers, or maybe Black Flag smashing gurners with Neubauten, or how about Stooges getting punished by the Gallagher brothers, maybe even all of those at the same time. Seven songs in eighteen minutes, housed in a heavyweight sleeve featuring artwork from Keegan Dakkar Lomanto. Limited to 300 copies, all on white vinyl.
LISTEN / DOWNLOAD:
https://staticshockrecords.bandcamp.com/album/stiff-prescription
ORDER:
http://staticshockrecords.limitedrun.com
REPRESS DEPT:SSR048: URANIUM CLUB - ALL OF THEM NATURALS LP
"All Of Them Naturals" is a fully realized, inclusive world of faux-corporation sponsored surrealist new wave punk music rife with satire and discordance. Robotically tight. Delightfully warped. Ideas as vast as Nebraska's GMO cornfields and as lethal as the pesticides they spray on them. Did the Sunbelt Chemicals Corporation invent DDT? Maybe. Did they invent man? They think so. Did they invent the wheel? No, that was URANIUM CLUB. Truly, our generation's DEVO. An important group." - Jensen Ward
SSR033: URANIUM CLUB - HUMAN EXPLORATION LP
"Originally released as a cassette, the debut from Minneapolis' Uranium Club is now widely available as an LP. Uranium Club play a kind of minimalist, agitated, catchy punk rock that reminds us of Wire before they released 'Pink Flag', but with an extra snotty attitude and bundles of energy. For a more recent comparison try early Total Control or the Shitty Limits. Each of the seven tracks on here explode from the vinyl, with each track more energetic than the one before, and they'll all be stuck in your head for weeks afterwards."
SSR042: TV CRIME - HOOLIGANS 7"
Repressed on white vinyl! Debut Single from TV Crime who are a new garage punk / power pop band from Nottingham who come fully formed. 'Hooligans' is a total stomper of a power pop song that starts like a classic Good Vibrations Records 7" with The Moondogs esque guitar work and the energy of 90's legends New Bomb Turks or Gaunt. Flip 'Wild One' is another pounder but with a more rock 'n' roll twist. As the band say "Killer Tunes - Shitty Attitude".
OTHER NEWS:THE NUMBER ONES
are playing a bunch of shows over the next few weeks, including a record release show for the Another Side Of... 7" in Dubin tomorrow night with Protex(!) and Extravision:
Following that there's a UK weekender:
16/03/2018: CARDIFF - BUS TRANSPORT CLUB
17/03/2018: LONDON - BOSTON MUSIC ROOM
18/03/2018: SHEFFIELD - LORD NELSON
and then a European tour:
Fr. 23.03.2018 Milan - Cox 18
Sa. 24.03.2018 Heidelberg - Schmitthelm
So. 25.03.2018 Trier - Ex-Haus
Mo. 26.03.2018 Paris - Olympic Cafe
Di. 27.03.2018 Nantes - La Scene Michelet
Mi. 28.03.2018 Antwerp - Music City
Do. 29.03.2018 Münster - Baracke
Fr. 30.03.2018 Brussels - La Chaff
Sa. 31.03.2018 Groningen - Vera
So. 01.04.2018 Kiel - Hansastr.48
Mo. 02.04.2018 Hamburg - MS Hedi
Di. 03.04.2018 Berlin - K 19
Mi. 04.04.2018 Leipzig - tba
Do. 05.04.2018 Mannheim - Juz
Fr. 06.04.2018 Munich - Kafe Kult
Sa. 07.04.2018 Stuttgart - Privat
In other news, I've just had to reject test presses for the upcoming
COLD MEAT
and
BLAZING EYE
7"s, which was a bummer, but what can you do. Hopefully they'll be corrected and on the way to coming out ASAP.
IDIOTA CIVILIZZATO
and
KRIMEWATCH
have both recently recorded LP's, and I should have more news on those shortly.
That's it for now, until next time!
Tom / Static Shock